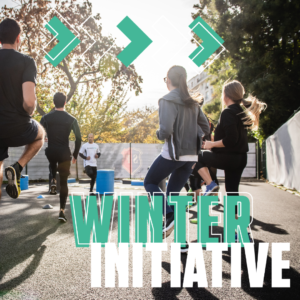 This 'Winter Initiative' calls on women, men, children, grandparents, cousins, neighbours, friends, work colleagues who haven't yet 'got going' to get out walking, running, cycling or participating in some form of physical activity.
Local clubs and groups are also encouraged to post and advertise their events and activities online to spread the word about the Winter Initiative and encourage new people to try out different sports which they may have felt were outside their comfort zone before now.
Do you want to change habits? Track goals? Accomplish new year's resolutions? Download our Active Wicklow Activity Tracker and it will help you by keeping track of your progress.
Download your Active Wicklow Activity Tracker Calendar here
Do it alone, or join in on some of our programmes, but this winter we want you to stay active for 2 – 3 times a week!
Check out some of the Winter Initiative programmes we have happening all over Wicklow:
1Men on the Move
This programme is starting Monday 29th August and will run twice weekly on Monday & Thursday mornings at 10.30 – 11.30AM in St. Brigid's Hall, Carnew.
2Parkrun
Runs every Saturday morning at 9.30am. A free, fun, and friendly weekly 5K community event. Walk, jog, run, volunteer or spectate – it's up to you!
Venues:
Avondale Forest, Rathdrum – https://www.parkrun.ie/avondaleforest/
Russborough House, Blessington – https://www.parkrun.ie/russborough/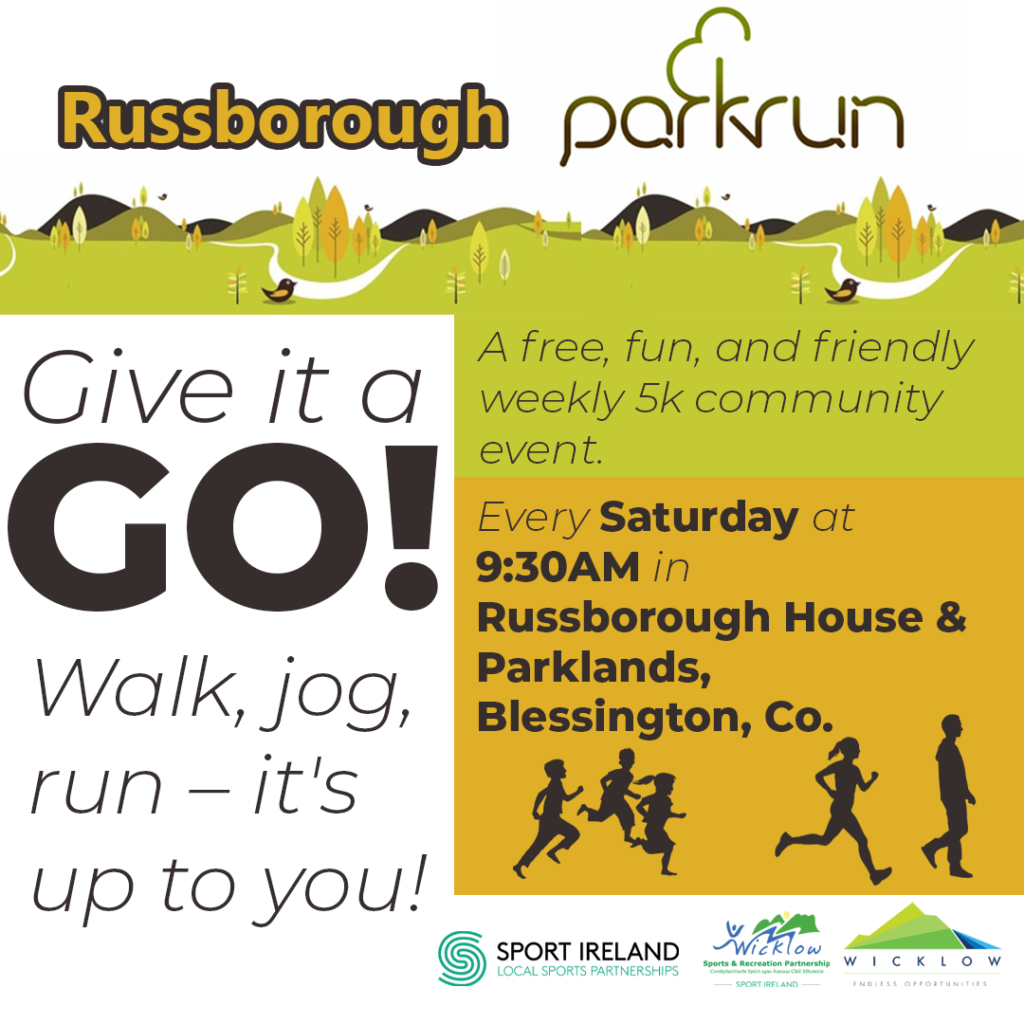 Arklow Duckpond Junior Parkrun –  https://www.parkrun.ie/arklowduckpond-juniors/ 
Bray Junior parkrun – https://www.parkrun.ie/bray-juniors/
3Trail Trotters Arklow (walking group)
This is a walking group suitable for beginners.
Why not join Trail Trotters Arklow every Tuesday and Thursday evening from 7pm outside Tesco Carpark for a community 5K. Get out and enjoy the crisp autumn air while making some local friends!  They also do a 5K trail every Wednesday leaving Coral Leisure Center Arklow at 9:30AM. Connect with them on facebook here:
https://www.facebook.com/coastalrunnersarklow
4Virtual Santa Dash
We are delighted to announce that registration for our annual 5K Virtual Santa Dash fun run is now open! The run can be done with friends and family or competitively on your own.
Find out more here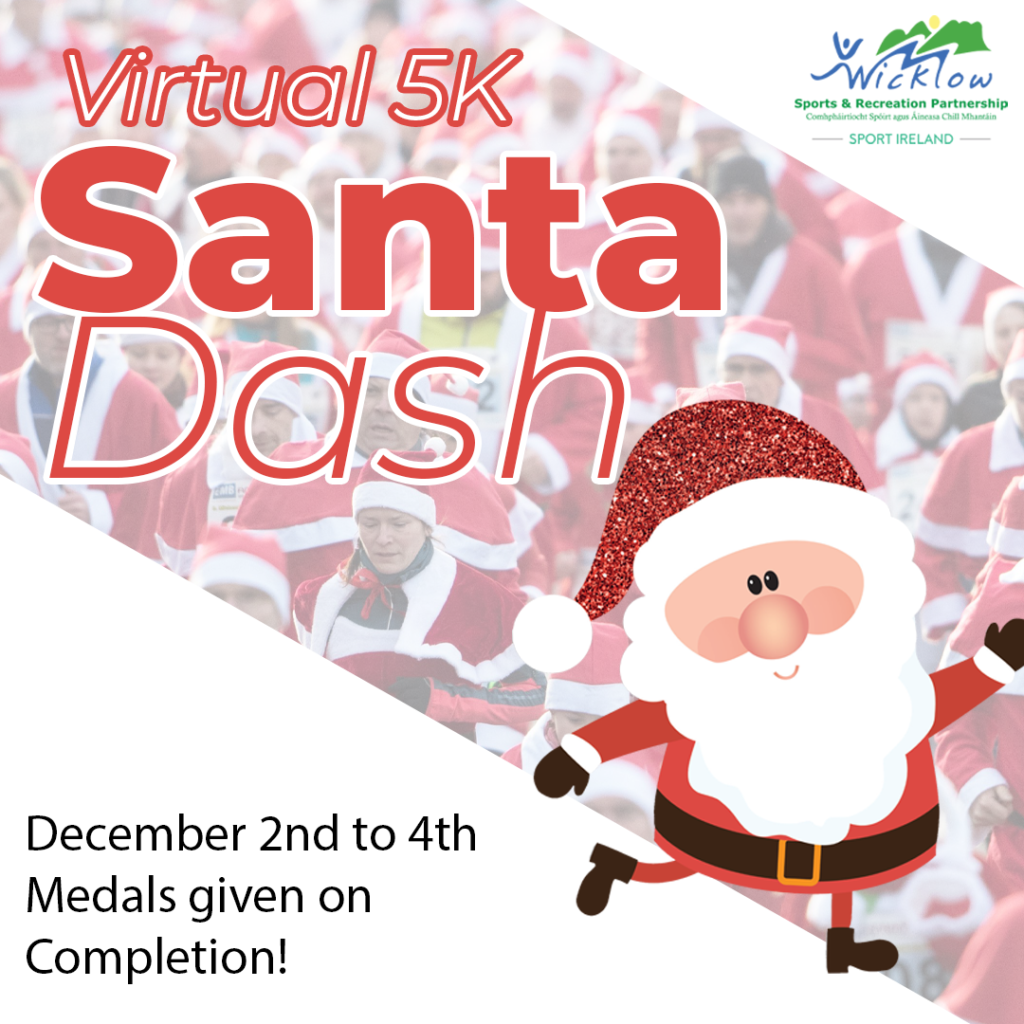 5Chair Yoga
Suitable for those who find a regular yoga class too strenuous, are recovering from injury or illness or are generally less active and mobile.
Arklow – Every Tuesday from 10.30am – 11.30am
Wicklow Town – Every Wednesday and Friday from 12pm – 1pm
6Activator Poles
Mondays 12.15pm The Activator Poles Programme is a fun outdoor activity suitable for anyone with mobility or balance concerns. The participants will learn the activator technique and learn how to use the poles to improve mobility, strength , balance and aerobic fitness. Each person who attends the programme will improve posture and gait, enhance core and muscle strength, reduce impact on joints and reduce falls.
7Buggy fit for Mums
We are delighted to announce that we are launching a 6-week BuggyFIT programme starting Monday, November 7th November from  11.15am-12.15pm in the Arklow Coral Leisure.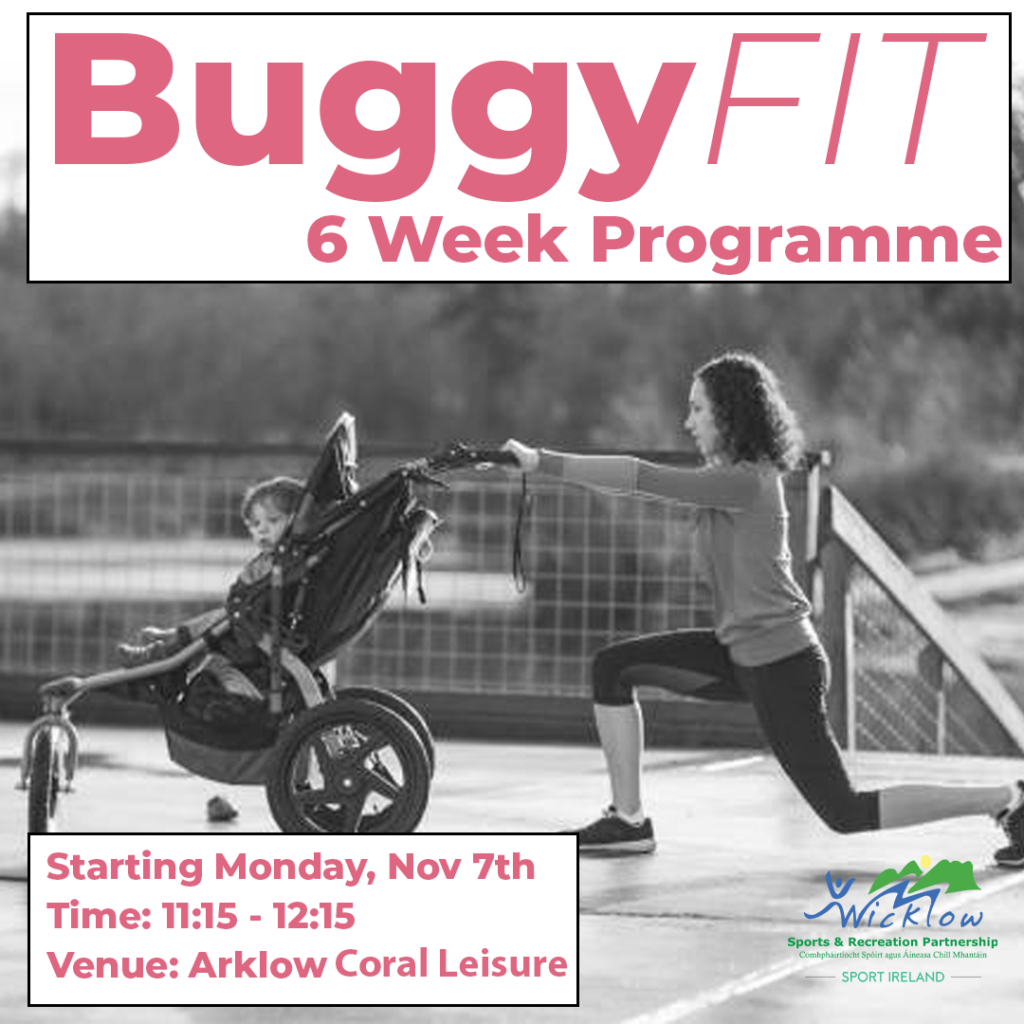 8Pickleball
Thursday: A €5 pay as you go (PAYG) Pickelball session will be running every Thursday evening from 8:15PM in the Arklow Sports Hub.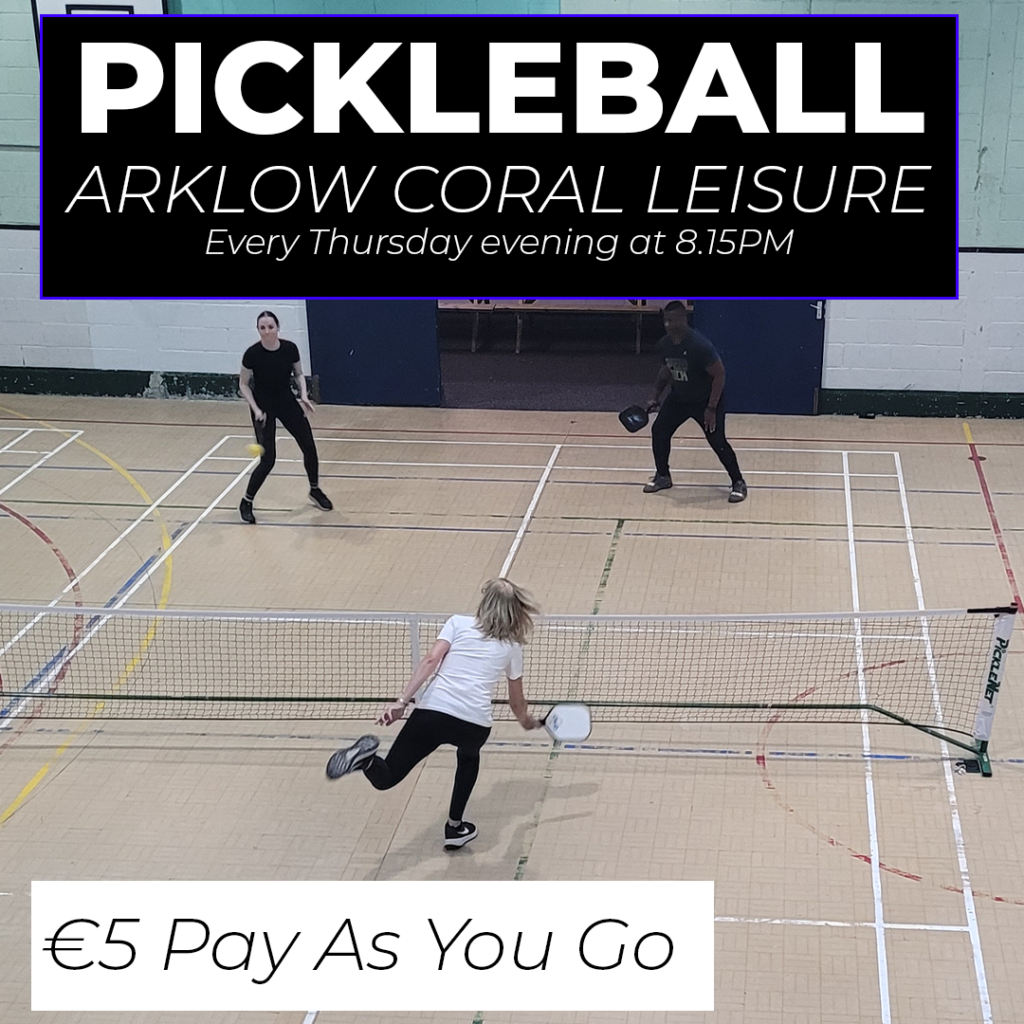 9Badminton 6 week taster session
The Badminton 6 week Taster programme will start on Tuesday, November 15
th
 from 11.30am-12.30pm in the Arklow Coral Leisure.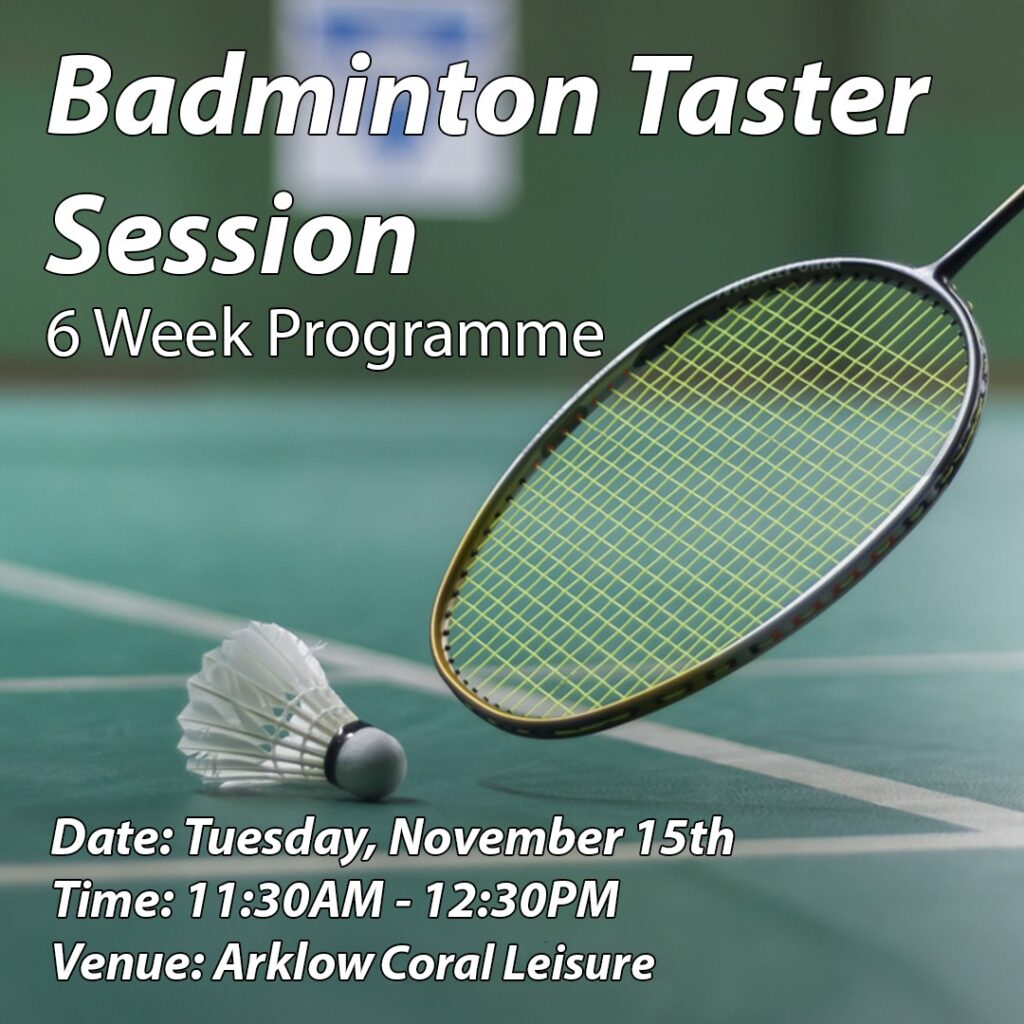 10Table Tennis Club exhibition
Wicklow Sports and Recreation Partnership together with Table Tennis Ireland are holding a table tennis exhibition in Arklow Coral Leisure on Thursday 10th November from 7pm to 8.30 pm.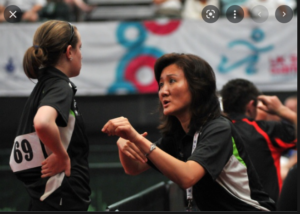 11Beginner DanceFIT
Date: Wednesday, November 9th
Time: 7PM
Venue: Coral Leisure Arklow
Price: €20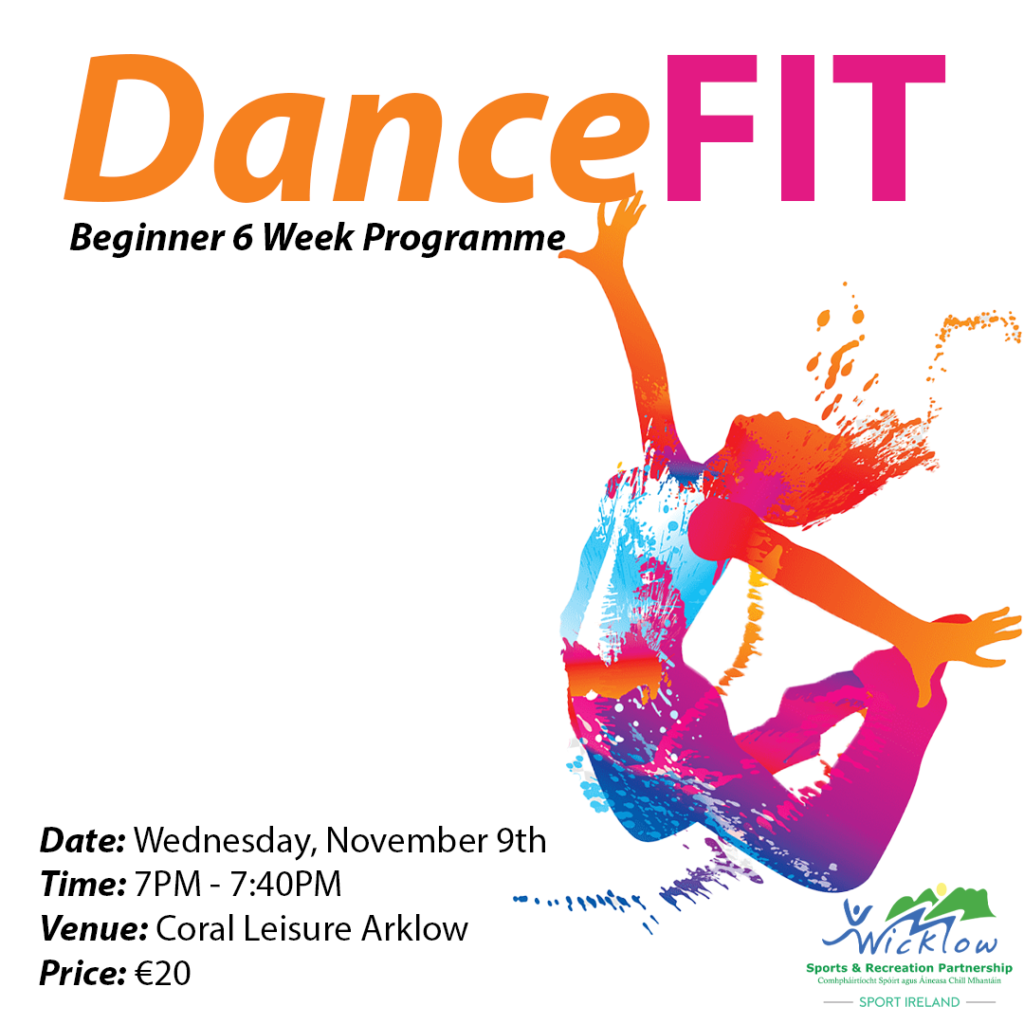 12Learn to Cycle for People With a Disability
This Learn to Cycle Programme is for children who cannot cycle without stabilisers.  Priority will be given to children with a disability/ diagnosis.
Parent/Carer to stay to support and learn skills for practice between sessions. Own Bike & Helmet is needed.
Helmet must be worn during programme, so practice at home might be needed.  This programme is part funded by Cycling Ireland.
Programme Outcome: To learn to cycle by learning balance, braking, turning etc.
Programme Dates: 8th, 15th, 22nd & 29th November, 6th & 13th December 2022.
Times: 3:00pm to 3:45pm for 5-8 year olds; 4:00pm to 4:45pm for 8+ year olds
Cost is €30
Email wicklowlsp@wicklowcoco.ie to register interest
13Walk & Talk Rathnew
On the first night of the programme, participants will receive a Healthy Wicklow High-Vis Vest.  In addition to this on completion of the programme, participants will receive an Active Wicklow T-shirt.
Spaces are limited register now to avoid disappointment.
Date: Every Wednesday & Friday, starting November 8th
Time: 7PM
Venue: Playground opposite the graveyard, Rathnew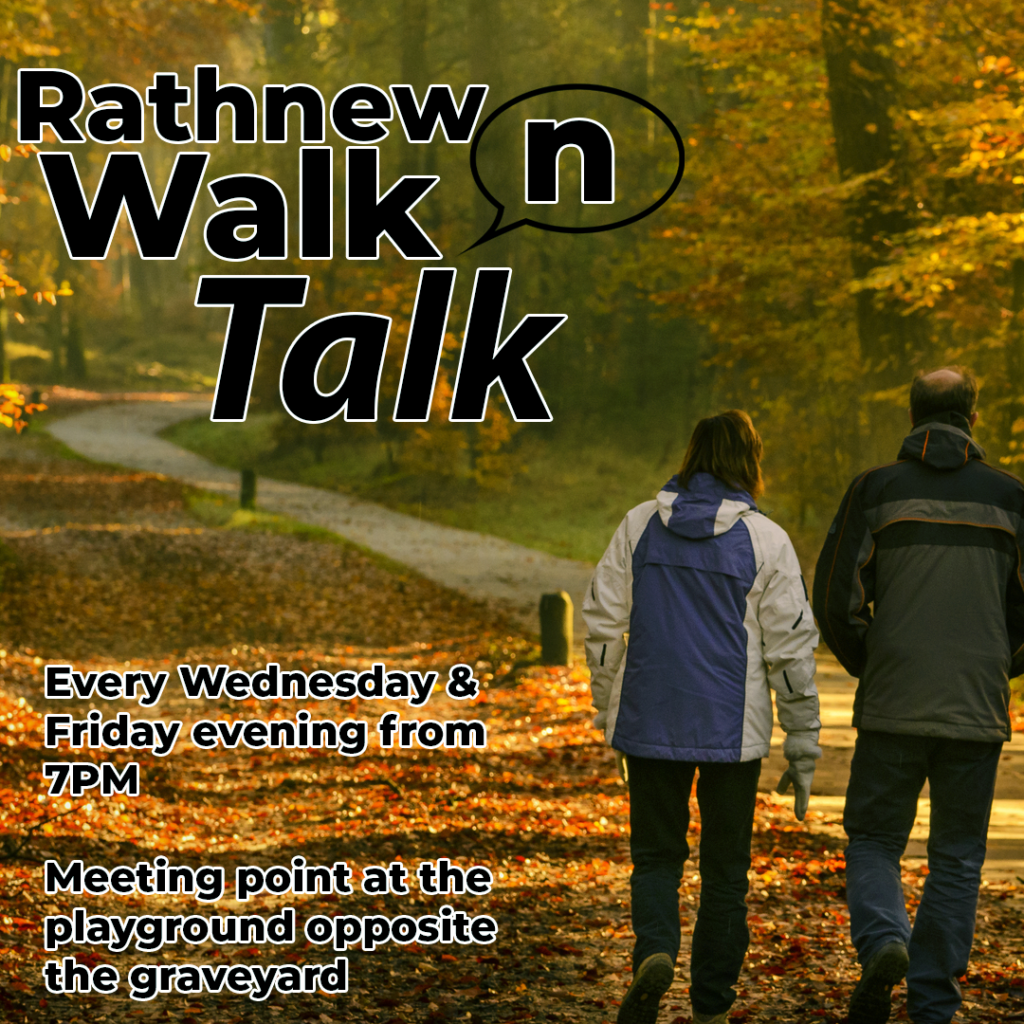 A full list of all the events and activities planned all around the country that people can get involved in is available on the Sport Ireland website at https://www.sportireland.ie/winter-initiative