| | |
| --- | --- |
| Eamonn Whelan | Service Providers |
| Charlie Batt | ETB |
| Bryan Fennell | County Wicklow Partnership |
| Michael Nicholson | Wicklow County Council |
| Brian Dunne | Wicklow Uplands Council |
| Susan Hill | Wicklow County Childcare Committee |
| | |
| --- | --- |
| Cllr Gerry Walsh | Elected Representative |
| Cllr Paul O'Brien | Elected Representative |
| Mai Quaid | Co Wicklow Older Persons Council |
| Phyllis Farrell | PPN |
| Mary McGuire | Women in Sport & NGB |
| Declan Lynch | An Garda Síochana |

National Physical Activity Plan
The aim of this Plan is to increase physical activity levels across the entire population thereby improving the health and wellbeing of people living in Ireland, where everybody will be physically active and where everybody lives, works and plays in a society that facilitates, promotes and supports physical activity and an active way of life with less time spent being sedentary.
Some groups of people living in Ireland may also face different barriers to accessing opportunities to be physically active. People experiencing social or economic disadvantage are often the least active or the most sedentary and may experience other health risks due to their diets, social connectedness or other behaviours. This Plan seeks to ensure that no group is disadvantaged and recognises that targeted interventions are required to address and overcome barriers to participation which are experienced by some people.
While most people already realise that physical activity is good for them, many people may not realise quite how beneficial it is and experience barriers to becoming active.
This Plan is not just about telling people to do more physical activity because it is good for them, it is about:
creating increased opportunities for people to be active in ways which fit in to everyday lives and which suits individual needs, circumstances and interests
removing the barriers which people face to being active and encouraging people to recognise how to overcome those barriers
enhancing cross-sectoral cooperation at national, local and community level to encourage physical activity at every level
encouraging a supportive environment where physical activity becomes normal
promoting good practice and finding new models of participation which get more people active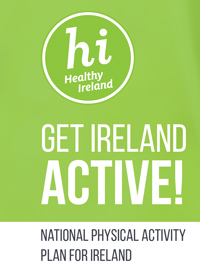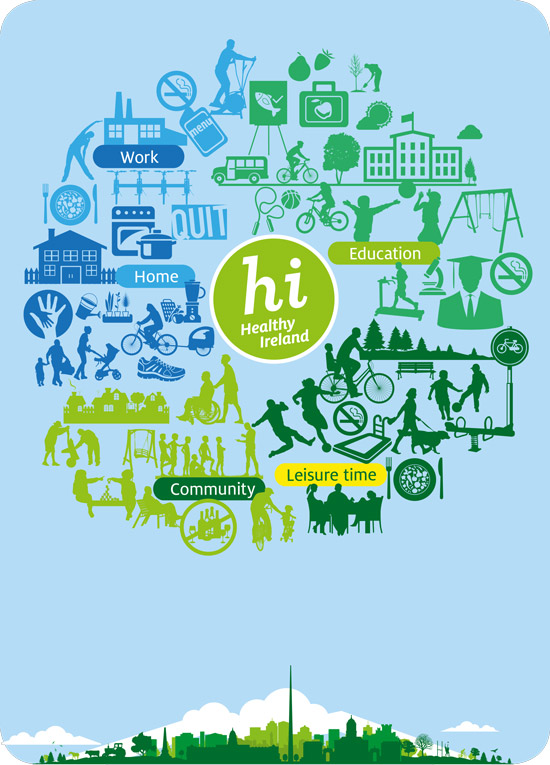 A Healthy Ireland, where everyone can enjoy physical and mental health and wellbeing to their full potential, where wellbeing is valued and supported at every level of society and is everyone's responsibility.
Healthy Ireland is designed to bring about real, measurable change and is based on an understanding of the determinants of health. Health and wellbeing are affected by all aspects of a person's life; economic status, education, housing, the physical environment in which people live and work. Health and wellbeing are also affected by policy decisions taken by Government, the individual choices people make about how they live, and the participation of people in their communities.
This understanding calls for a partnership approach in all of the actions set out in the Framework. Healthy Ireland is designed to harness the energy, creativity and expertise of everyone whose work promotes health and wellbeing, and encourages all sectors of society to get involved in making Ireland a healthier place to live, work and play.
The Framework describes four high-level goals and details 64 actions that will work together to help achieve these goals.
Goal 1: Increase the proportion of people who are healthy at all stages of life
Goal 2: Reduce health inequalities
Goal 3: Protect the public from threats to health and wellbeing
Goal 4: Create an environment where every individual and sector of society can play their part in achieving a healthy Ireland
It is well recognised that overweight and obesity is a significant problem in Ireland.  Tackling this complex issue requires multi-agency, multi-level and coordinated approaches.
The Obesity Policy and Action Plan was developed by the Department of Health to address policy and intervention options in the context of prevention and management of overweight and obesity and is intended to support a consultation process currently underway.
Tobacco use is the leading cause of preventable death in Ireland. Each year at least 5,500 people die from diseases caused by tobacco use.
Tobacco Free Ireland (TFI) was launched in October 2013. It sets a target for Ireland to have a smoking prevalence rate of less than 5% by 2025, effectively making the country a tobacco free society. TFI contains over 60 recommendations which address a wide range of tobacco control issues and initiatives.
The Healthy Workplace initiative is an important part of driving the Healthy Ireland agenda. As there are over 2 million people employed in Ireland, the workplace can make an important contribution to healthier communities.
Workplaces directly influence the physical, mental, economic and social wellbeing of workers and in turn, the health of their families, communities and society. It therefore offers an ideal setting and infrastructure to support the promotion of health to a large audience. According to the World Health Organisation (WHO), workplace health programmes are one of the best ways to prevent and control chronic disease, and also to support mental health.
Sexual Health and Wellbeing
The National Sexual Health Strategy 2015 – 2020 is a strategic framework for the sexual health and wellbeing of the Irish population and was launched in October 2015.
This Strategy's vision is that everyone in Ireland experiences positive sexual health and wellbeing, and has access to high quality sexual health information, education and services. It takes a life course approach to sexual health which acknowledges the importance of developing healthy sexuality throughout childhood and adolescence and builds on that foundation for positive sexual health and wellbeing into adulthood and older age.
The misuse of alcohol and harmful patterns of drinking pose a number of problems. These not only include negative effects on the health of those drinking too much, but also cause harm to families and society as a whole.
The proposed Public Health (Alcohol) Bill is the first time we will seek to address these negative impacts on public health grounds, and is part of a suite of measures designed to reduce alcohol consumption and limit the damage to the nation's health, society and economy.
On 7th March 2017, the HSE launched a new website for the public on alcohol – about how much we're drinking, how it affects us healthwise, and how we can gain more by drinking less. It is the first HSE website to provide dedicated information about alcohol risk and offers support and guidance to anyone who wants to cut back on their drinking.
A focus on research is an important feature of Healthy Ireland. This is to ensure that interventions, programmes, communication strategies and funding strategies are based on robust evidence about the determinants of health and best practice approaches in addressing them.
Accelerating the take-up of new knowledge and innovating through advances in scientific knowledge will also be a key aspect of how we will achieve our goals.
Healthy Ireland will also be subject to rigorous monitoring and evaluation. This includes the development of an Outcomes Framework that will specify key indicators and targets to underpin the various strategies and actions under Healthy Ireland. Regular measurement of these indicators will allow progress on improving the health and wellbeing of the population across the lifecourse to be assessed over time
The Irish Sports Council in its first strategy – A New Era for Sport – promoted the notion of Local Sports Partnerships that would promote participation in sport at a local level. During the period covered by this strategy, the ISC established its first twelve Local Sports Partnerships (LSPs) – Clare, county Cork, Donegal, Fingal, Kildare, Laois, Limerick city, Meath, North Tipperary, Roscommon, Sligo and Waterford. In our second strategy – Sport for Life – the ISC again supported the continued expansion of the LSP network, with a further four LSPs – Kerry, Kilkenny, Mayo and Westmeath – established in 2004.
In 2005 the Department of Arts, Sport and Tourism commissioned Fitzpatrick Associates, Economic Consultants to undertake a review of the Council's Local Sports Partnership Programme. The Fitzpatrick Report was presented to the Department in October 2005. The report endorsed the LSP concept advising that with the implementation of 12 specific recommendations the programme should be rolled out nationally on a phased basis. Since the publication of our new strategy; Building Sport for Life 2006-2008, the remaining 17 LSP's have been established and we now have full national coverage.