€186,000 Awarded to Wicklow Sports & Recreation Partnership
October 27, 2022

Active Wicklow Winter Initiative
November 9, 2022
5K Virtual Santa Dash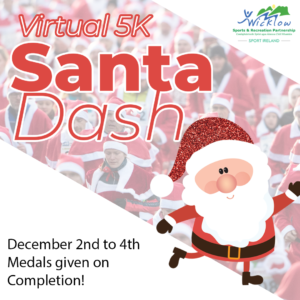 We are delighted to announce that registration for our annual 5K Virtual Santa Dash fun run is now open! The run can be done with friends and family or competitively on your own. Do it in your running gear on your own or dress as Christmas elves with the family! Take this 5K challenge on and complete it at any time between the 2nd to the 4th of December. Our highly coveted Santa Dash medals will be shipped out to you upon completion of the race.
5K Rathdrum Santa Dash
Join us Sunday, December 4th for a 5K Santa Dash in Rathdrum. Registration is essential and all participants will get a #ActiveWicklow t-shirt and drawstring bag given upon completion. This event is open to everyone from newborns to centenarians……and even celebrities. Do it as a family, group, or individually. Dash with a sea of Santas around the fish pond in Parnell Memorial Park, Rathdrum.
Entry: €10 per adult, €5 per child & €20 for a family of 4
All proceeds go towards Rathdrum Christmas Lights!