Bike Week Showcases Thrilling Cycling Events in Wicklow
May 25, 2023

4-Week Social Basketball for Teenage Girls and Women Arklow
June 19, 2023
Summer has finally arrived! Have you got your summer plans sorted yet?
For many parents, choosing the right summer camp for your child can be a daunting task. To take some of the stress away, we have compiled a list of Wicklow-based summer camps so you can find the best camp for your children, happening near you!
If you would like to advertise your camp here email wicklowlsp@wicklowcoco.ie
>Canoeing Ireland For The Love of It Summer Camp - Blessington Lakes
Event Description:
Canoeing Ireland "For The Love of It" Summer Camp – Blessington Lakes- in partnership with Wicklow Sports Partnerships and hosted by Poulaphouca Paddlers 
Sign up for Canoeing Ireland's first nationwide series of "For The Love of It" Summer Camps. 
"For The Love of It" is a multi-disciplinary Paddlesports foundation pathway programme that aims to inspire young paddlers through fun, diverse and creative Paddlesport experiences. 
Dates: 17/07/23-21/07/23 
Location: Russeltown Bay, Blessington Lakes 
Age group: 12 to 18 
An exciting Monday to Friday camp; ½ day of activity;
1 discipline/day with Friday-Funday multi-discipline mashup
Positively Challenging sessions with Junior specific equipment 
Safe, high quality coaching environment
All paddling specific equipment provided (boat/board, paddle, Buoyancy Vest, Helmet)
"For The Love of It" Cap and Camp Digital Certification.
A celebratory snack on the Friday
If non-CI member – CI membership for remainder of 2023 (linked to a club)
There are 2 different groups, one morning 10 am to 1pm one afternoon 2pm to 5pm; 8 participants max per group. 
If you are paddling less than a year, please book the morning ticket. 
All paddlers will be supplied with discipline relevant boats on the different days. 
You will receive a location pin and further information before the camp starts. 
If you have any questions about the course, contact orlagh@canoe.ie or text/phone Orlagh  0876441174
>St Pats FC Soccer Summer Camp hosted by Teaching Tekkers
4 days of fun coaching and games hosted by UEFA qualified coaches.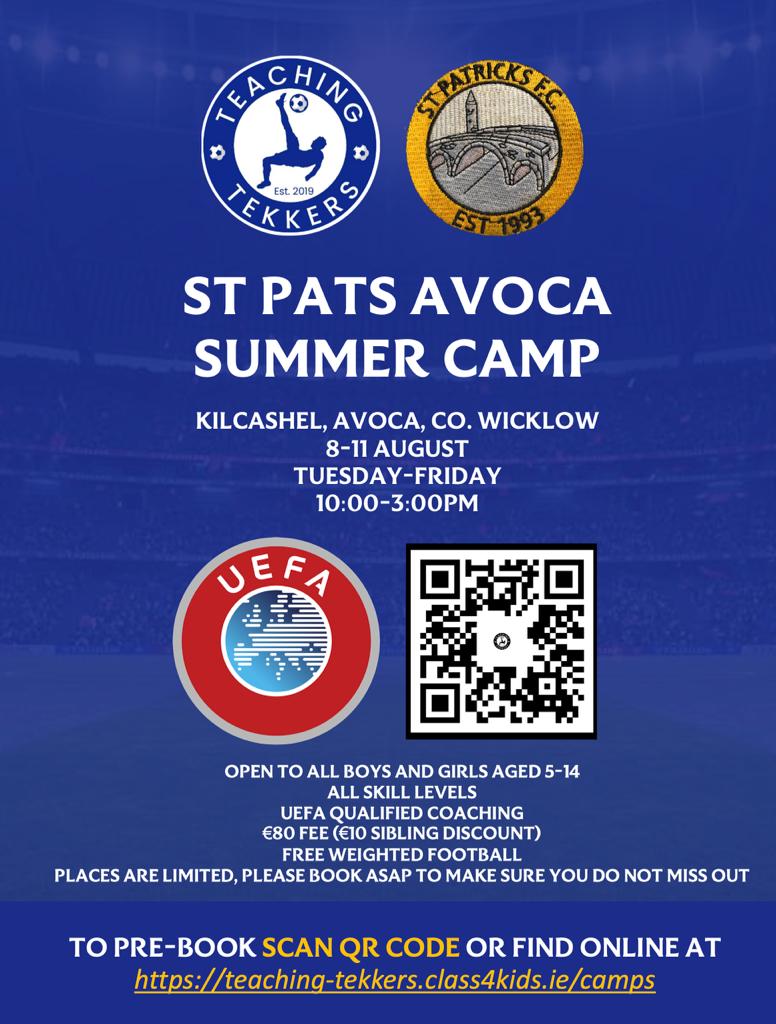 >Balinastoe Mountain Bike Summer camp
Our Mountain Bike Camps have an action-packed program delivered over 2 days. Whether your child is an experienced mountain biker or just keen to try, they're sure to have a truly memorable experience in the mountain bike mecca that is Ballinastoe. During the camp we will cover all the important aspects of mountain biking in a fun and relaxed environment.
Location: Ballinastoe Mountain bike Trails, Roundwood
Date: Summer – 11/12 July and 8/9 August
Target Audience: 11 to 15 Year Olds
To Book: https://www.biking.ie/inventory/youth-camp-ballinastoe
>Calm Camp - West Wicklow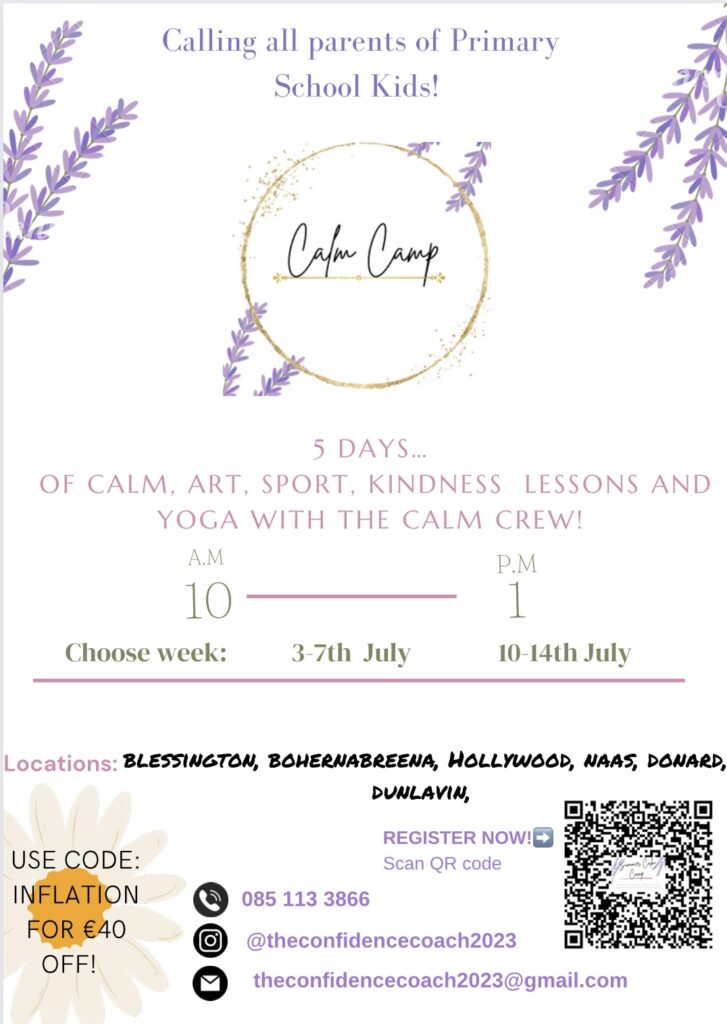 A camp created by teachers for the holistic development of children through 5 thematically days of sports, arts, crafts, teamwork, mindfulness & sensory activities.   Suitable for ages of 4-12, running from Monday 3rd-Friday 7th and Monday 10th – Friday 14th from 10 a.m – 1.00 pm!  Come along!
Location:
>Wicklow Rovers AFC Summer Camp
Summer camp for children ages 5-13. 4 days filled with football & fun for all!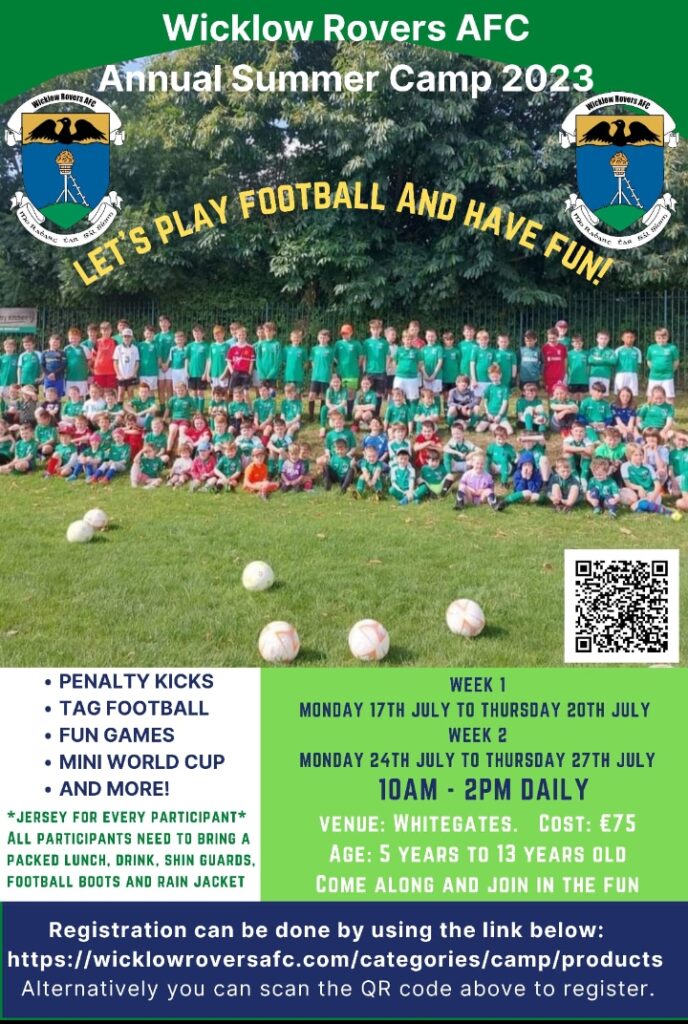 >FYI Dance Club Summer Camp
Create – Collaborate – Meet Your Tribe
FYI summer dance camps are a great way to have fun, meet like-minded young people, get creative, and learn some fun dance routines. Each week is tailored to the participants to make sure they get the most of out the week. Create, costume, and perform to your favourite songs while learning positive mindset tips to help you feel good, boost your confidence, and reach your goals!
Contact Amanda and Zoe 0861738272 or email Zoe@fyidanceclub.com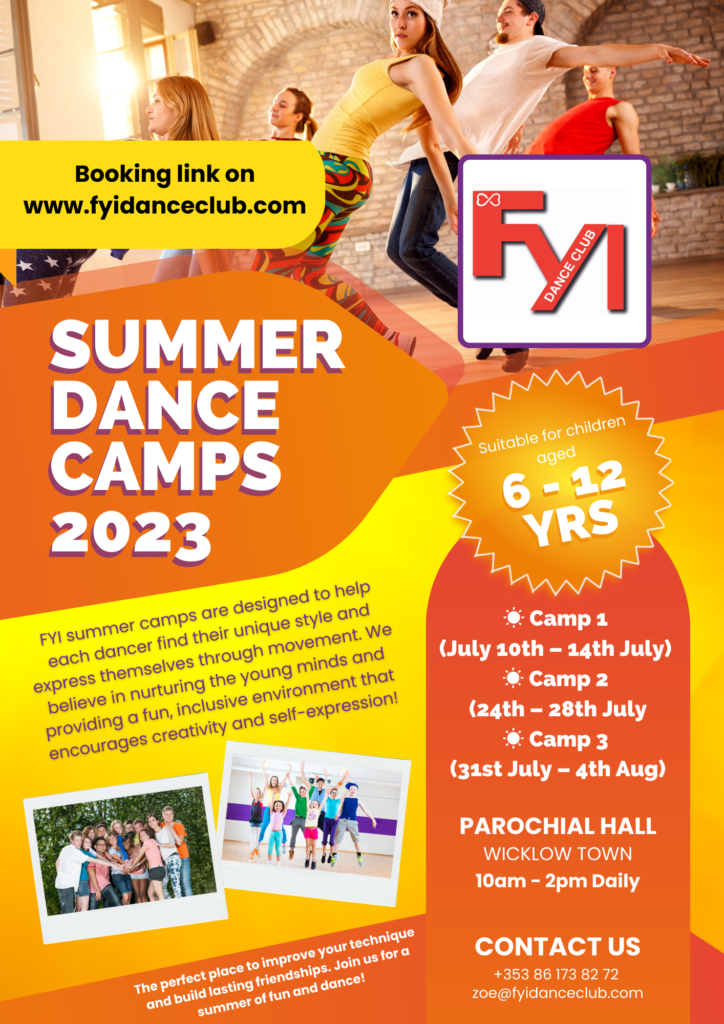 >The Colour Club Camps
Summer is here! Celebrate by booking into our super summer camps ☀️ Camps are on from 10am – 1pm each day. Here are some of the exciting activities that we will explore… Creative activities, art, craft, design Yoga & fun exercise Stories & book club Games & obstacle courses Puppet play Relaxation, mindfulness & breathing Woodland walks Outdoor adventures Sensory & messy play Dancing & DJing Facepainting.
Location: Ballyraine Campus, Vale Road, Arklow, Y14 KN53
FInd out more about how to book on here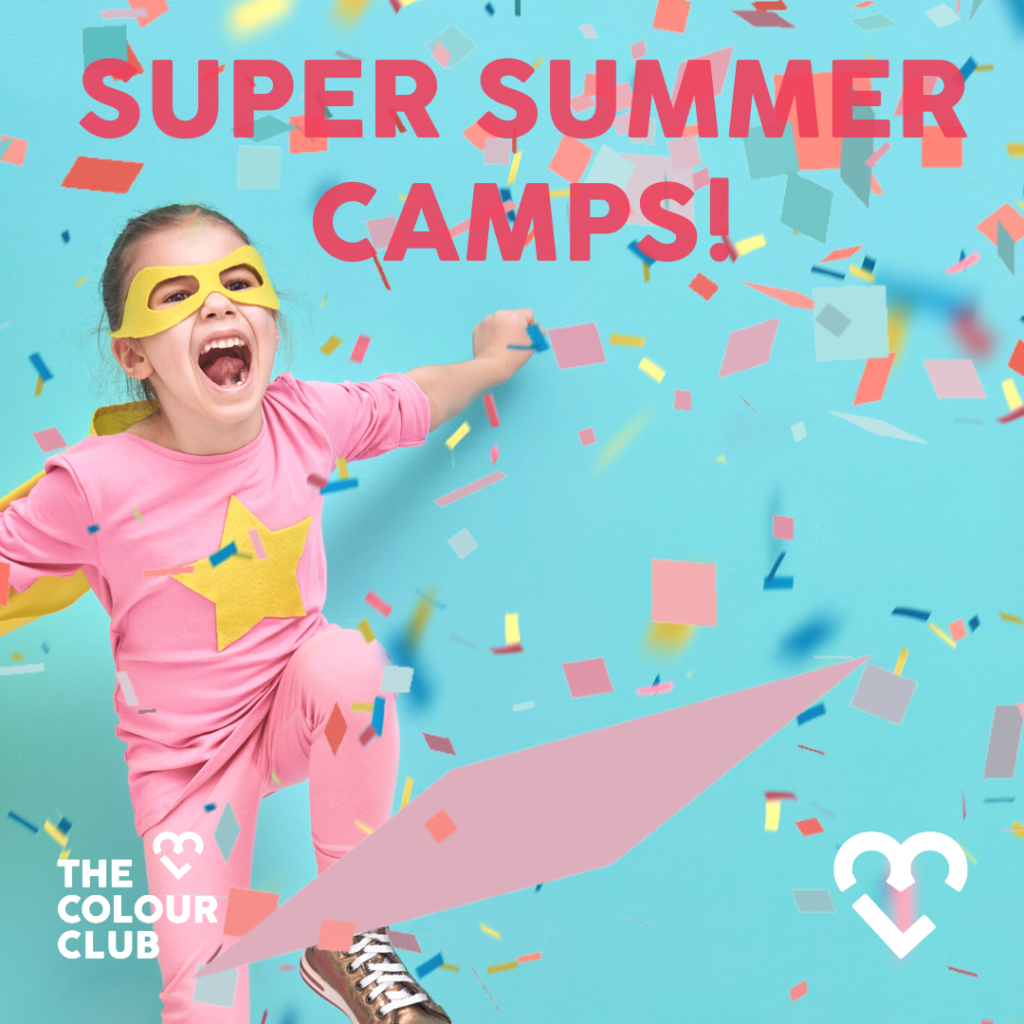 >@wearethebusybees Art Camps
We are very excited to announce that we will be running 3 fun Art Camps this July! Our Camps offer an inclusive space for your child to express their individual creativity. We operate a play-based approach to learning and will have a range of exciting activities, including:
• Art and varied crafts
• Collage
• Print-making
• Mixed media exploration
• Drawing and techniques
• Painting and surface exploration
• Games and sensory activities
Camp 1: 4th – 6th July Camp 2: 11th – 13th July
Camp 3: 18th – 20th July
Our Camps are for children aged 4-9 years and the cost per child is €60. Spaces are limited on each Camp so early booking is recommended at the following link: https://buytickets.at/wearethebusybees We can't wait to get started!
>Alive Outside Summer Camps
Alive Outside is an outdoor adventure company based in the magical setting of Killruddery Estate. We provide challenging and exciting outdoor activities for all ages and our Summer camps run from June to August. We also have one day camps available at weekends.
Location: Killruddery Estate, Bray, Co. Wicklow
Find out more and book onto the camp here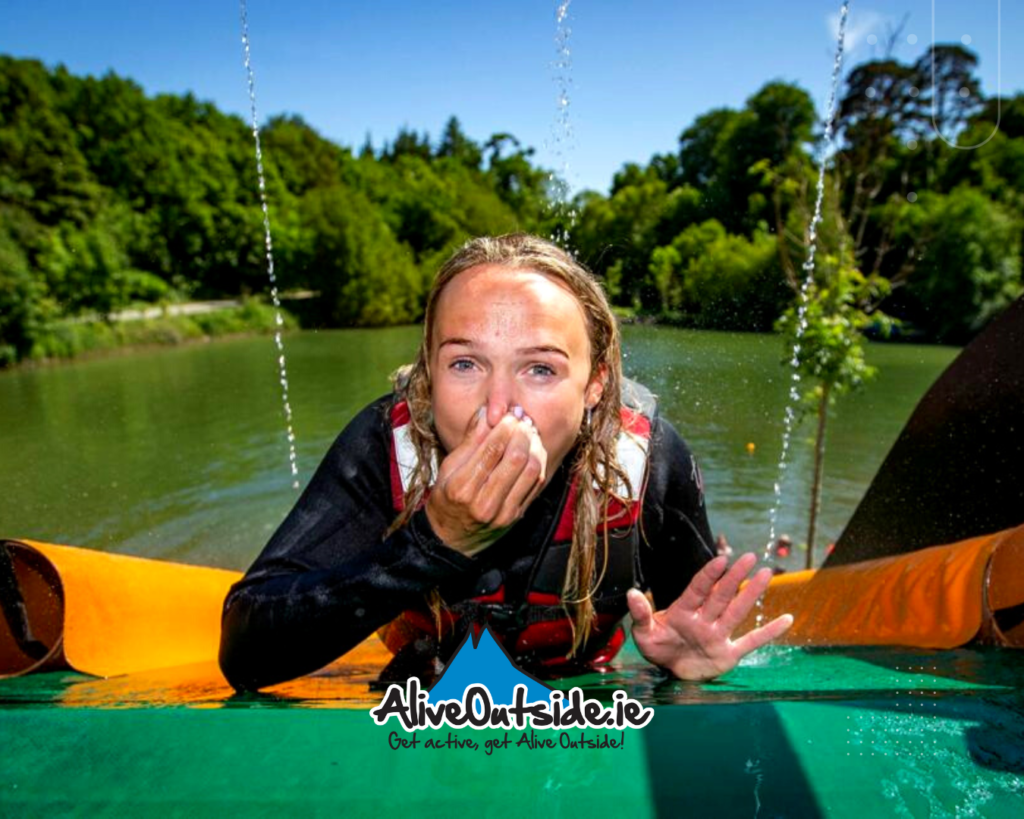 >Creative Mind Space for Kids
A fun and creative workshop, delivering an introduction to mindfulness through arts, crafts, stories, movement, and meditation to children aged 4-12 years old.
To book email Bookings@creativemindspace.ie or visit Instagram: @creativemindspaceforkids