Bike Week in Wicklow concluded with a range of exciting events offering a diverse and exciting range of events that captivated cycling enthusiasts of all ages and skill levels.
The Learn to Cycle program was a standout success, with children quickly acquiring fundamental cycling skills.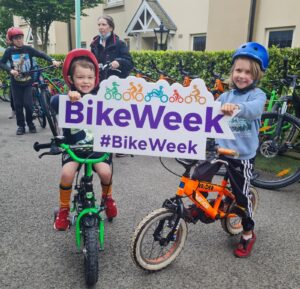 "We held 23 free Learn to Cycle programmes across 10 locations in Wicklow, providing ample opportunities for children to participate and discover the joy of cycling.  Our Learn to Cycle program proved to be a fantastic experience for children. They were riding confidently within 45 minutes and that's what you want to see!" said Wicklow Sports and Recreation Partnership Coordinator Aisling Hubbard.
In addition, participants enjoyed thrilling activities such as the Pedal &Pamper, Introduction to Mountain Biking, Bike Maintenance Workshops, Seaside Spin & Sauna, and many more.
"It was great to see a diverse amount of events happening during the week all over Wicklow" said Chief Executive of Wicklow County Council, Emer O'Gorman. "From mountain biking to e-bike tours, there was truly something for everyone!"
Bike Week also extended its impact to schools through the Bike Week School Grant Initiative, promoting physical activity and bike safety among students.
"The Bike Week School Grant Initiative was a wonderful opportunity for schools. It encouraged a love for cycling among students and promoted a healthy lifestyle!" added, Cllr Tommy Annesley, Cathaoirleach of Wicklow County Council.
Bike Week 2023 in Wicklow has undoubtedly left a positive impact on participants, fostering a love for cycling and promoting a healthy and active lifestyle. The event showcased the natural beauty of Wicklow and the endless possibilities for adventure on two wheels.