Bike Week 22nd – 30th June 2019
Wicklow Local Sports Partnership received funding from the Department of Transport, Tourism and Sport for Bike Week. Applications were invited to apply for grants to those hosting a bike event.  19 schools participated and benefited from Bike Week funding which promoted cycle safety, skills and maintenance along with 7 community events were also supported by Wicklow LSP these included;
Wicklow Mountain Bike Club
Over 70 people took part in this mountain bike event to launch a new MTB club in Wicklow. Participants ranged in ages from 7 to 71 with leaders taking the bikers out on the trails of varying skills and levels.
Biking.ie, Ballinastoe
This was a free community mountain biking taster session held on Thursday 27th June in Ballinastoe Mountain Bike Trails, Co. Wicklow. This event was fully booked with 20 participants in each session.
Dunlavin District Forum
Dunlavin & District Forum participated in Bike Week 2019 for the first time with both younger and older members getti
ng involved throughout the week. There was a poster competition for the younger children and a photography competition for the older children with prizes for both competitions.  Wicklow Sports Partnership ran a Balance Bike Workshop and the obstacle course was the big attraction on the day of the event. Reservoir Cogs cycling club also joined and gave a very informative talk on the benefits of cycling for all ages
Two fully booked evenings of free workshops were held in Wicklow Town during bike week. These were aimed at helping cyclists learn how to manage and fix small repairs on the bikes such as puncture repairs, how to change tubes, take wheels on and off quickly as well as tips on how to keep a bike running smoothly.
AAA Family Fun Day, Greystones
Wicklow LSP, designed a learn to cycle programme for the members of Triple A Wicklow as part of their 2nd Family Fun Day.  Triple A Alliance was founded in 2002 and supports families, provides information, training and appropriate activities for children and adults living with Autism, Asperger Syndrome and A.D.H.D. Over 80 members  participated in the cycle track laid out on the grass with a range of bikes used including balance bikes, bikes with stabilizers and pedal bikes.
South East Road Club Grass Cycling Event, Arklow
20 children attended the launch of this event that took place on Coral Leisure's Arklow pitch.  South East Road Club demonstrated some bike handling skills, group riding skills and safety on the bike.
'Get Back on your Bike' hosted by The Sports Room, Wicklow Town.
This event consisted of a leisurely spin out to Tinakilly for some Tea and Scones and then back to the Sports Room Wicklow Town. Along with this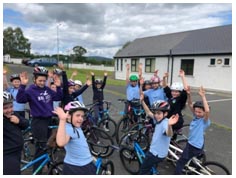 cycle the Sports Room offered a free bike check to ensure your bike was roadworthy before the event.