#FINDYOUROUTDOORS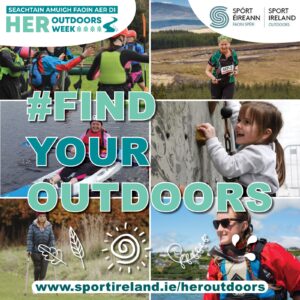 HER Outdoors Week will run from the 8th to 14th of August 2022. In conjunction with this national event, this year Wicklow Sports and Recreation Partnership are excited to launch Her Wicklow, Her Outdoors. The aim of this week is to celebrate and encourage more females to get out and enjoy the benefits of being in the outdoors in Wicklow while bringing visibility to the opportunities for females to get involved in outdoor physical activity.
From mountain to sea, Wicklow's varied landscape offers an amazing playground for a wide variety of outdoor activities and this week will be an opportunity for ALL females to escape to the outdoors and try something new.
Participants will be able to choose from a variety of activities from hiking, pony trekking, orienteering, surfing and many more.  There will be a wide range of on-land and sea activities up for grabs. All events will be open for registration later this week, with newsletter subscribers getting access to our persale tickets. It is envisaged that a lot of these events will be sell out fast so if you are not signed up to our newsletter, you can register here.
Her Wicklow, Her Outdoors
Countdown to launch